MEP Contracting Process
Human Resources
Setting up the organisation structure
Preparation of the project's duty matrix with RASCI method
Training organisation in line with the distribution of the duties
Engineering Works

Design review
Calculations
BIM modeling & clash resolution
Material submissions
Method statements
Procurement and Logistics
Material take-off
Purchase orders
Material delivery
Storage & on site transport
Planning and Cost Control
Time schedule​
Labor time keeping​
Progress monitoring​
Cost monitoring​
Change management
Construction
Mounting
Site mobilization
Installation supervision
Resource distribution
Interfacing with others
Protection of the works
QA/QC and HSE Monitoring
Material inspections
Installation inspection
Progress documentation
Safety inspection and records
Testing, Commissioning and Handover
Factory inspection tests
Site acceptance tests
As-built drawings
Operation and main manuals
Project handover document
Technological Tools
Our commitment to training and technology ensures that we remain to the forefront of technological advances in our industry. Our in-house software, technology and expertise includes:
BIM (Building Information Modelling)
BIM; one of the most important reflections of digital transformation in construction and engineering, strengthens the way we do our business and creates a difference. We started the BIM process in 2015. After completing extensive preparations for adaptation to BIM, we became one of the few MEP contracting companies in Turkey that implements BIM. For us, BIM is an approach to ensure that the right people get the right information about the project at the right time.
During the tender process, receiving design models for some projects and calculating fast and accurate quantity take-off through these models also takes us a step further. We can provide our clients with accurate outcomes.
We make the modeling of the works in our projects through BIM tools. Even if we receive 2D drawings during the design process, we convert them into the models that are compliant with BIM standards. Thus, we minimize the risk of mistakes occurring at construction sites and we generate feasible and easy-to-assemble models. Additionally, for the models that we generate and deliver, we also share some non-graphical data that can be used in operations and maintenance by our clients.
3D: Design
- Architectural & Engineering Design Documentation
- MEP Engineering Calculations
- Life Safety & Logistic Modelling
- Energy Analysis
- Clash Analysis
4D: Scheduling
- 3D + Time Element
- Project Phasing Simulations
- Construction Sequencing & Scheduling
- Just in Time Equipment Delivery
- Detailed Simulation Installation
- Virtual Construction
5D: Estimating
- Quantity Extraction for Cost Estimation
- Value Engineering
- Modular Solutions
6D: Facility Management
- Life Cycle BIM Strategies
- BIM As-Builts
- BIM Maintenance Plans&Tech Support
- BIM embedded O&M Manuals
- COBie Data Populations & Extraction
BIM With Its Advantages In Construction Process

Before we get to the implementation phase in our projects, informing the design and site  teams on the processes and ensuring uninterrupted communication are the most critical issues. BIM software offers serious advantages by allowing these teams to see the models made before the application and to predict how the site will progress.
Ümit Balaban, our BIM Manager, shares his experiences as follows:
The use of BIM processes in the Middle East is progressing simultaneously globally. It's usage has become mandatory in many projects in the region since 2014. With the developing needs of the industry, it was decided to use the BIM processes in the operational processes after the completion of the project. Thus, the information that will be generated during the design, construction, operation and maintenance processes has been made available for the use of the operational team.
Transition to BIM process was one of the important factors for success
The process can be monitored in advance
Although Revit's capabilities  limit us in some ways while working on models, with graphical programming softwares like Dynamo, we could fill this deficiency easily.
I can say that, we get the most efficiency in coordination and site applicability areas among Revit's advantages in terms of electric and mechanics. . By upgrading the models from LOD 300 level to LOD 400 level, we are able to see every detail from scaffolding to maintenance spaces of the equipments. Thus, we switch models that are skipped or ignored during the design phase into applicable models and we take these models to 4B stage, in order words; we add time element  and share with our employers. It has the ability to match Navisworks and other planning software and control the timing of the model.
Although it is not very detailed in terms of MEP, we can process the best time data that can lead us and monitor the process.
On the 5B stage, by using our own bases which we generated especially through Navisworks, taking the quantities and performing their documentation, we transfer them to the Excel files we generated and we make use of the quantity lists while opening our orders. We continue our works to match the ordering systems we use with the models, and we aim to make the orders and final controls through the model as well.
We switch models that are skipped or ignored during the design phase into applicable models
We present the correct results to our employers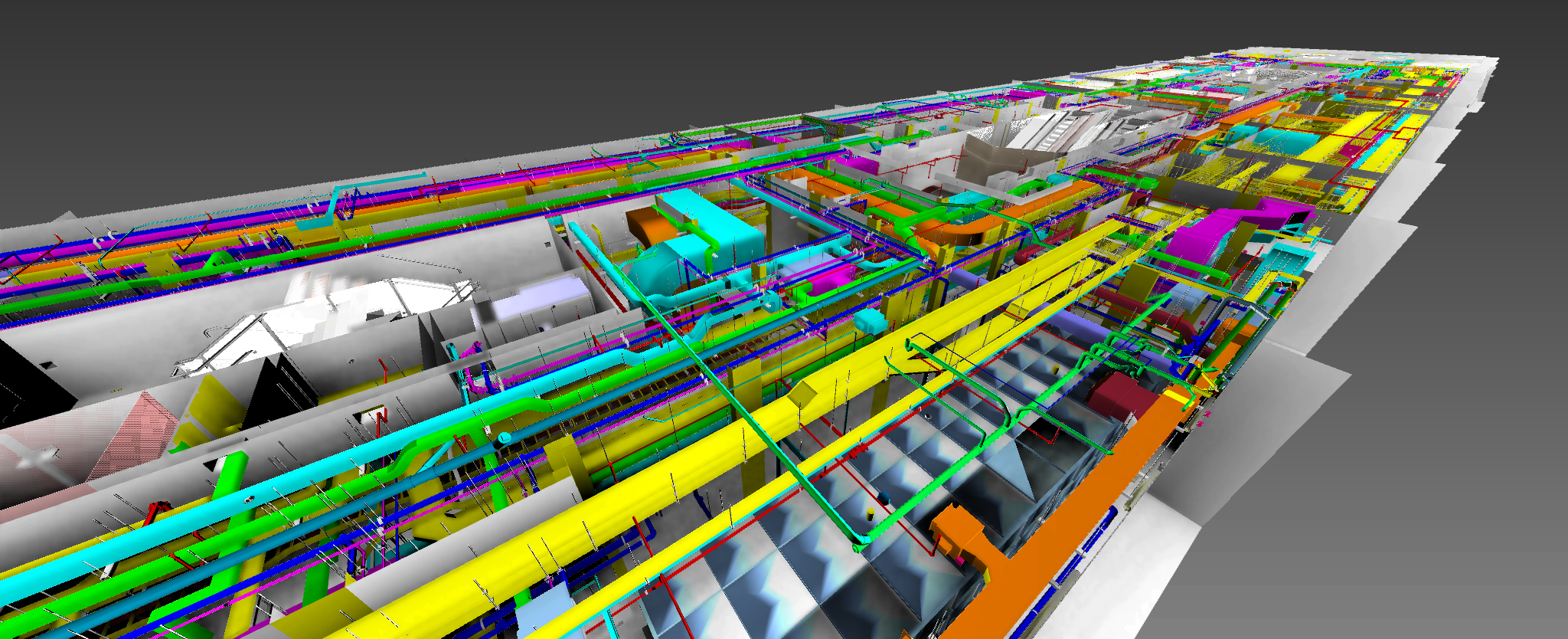 In some projects, obtaining the design projects made with BIM/Revit during the tender stage and performing fast and accurate quantity surveys from these models takes us one step forward. With our strong technical team, we present the correct results to our employers.
Our team in Turkey provide support to projects abroad as well as providing the modelling of our works in Turkey via Revit. Even if 2B drawings are obtained during the design phase, we change these to models that are suitable for BIM process and try to speed up the manufacturing processes by sharing documents with fully resolved installation details to the site.
Another big advantage of Revit is that more than one person can work on a model at the same time. Because , it is even difficult to control the files and folder them in crowded design teams.
We are working with Revit Server system, especially because of the different locations of our projects.  Thanks to this this system, we aim to enable our teams in different regions work on a joint model. We recently had the opportunity to try Collaboration for Revit. This solution, which enables the cooperation of teams in different locations, offers a critical advantage especially for globally operating companies like ours. We are confident that we will provide adaptation of this system in our future projects and that we will improve the quality of our work even further under the international standards.
Although it seems clear that Revit has deficiencies in terms of electricity, it shows both its advantage and its disadvantage with the fact it offers you the flexibility to complete this deficiency. We can reach solutions with different methods. For example, we are trying to develop our own software through API. We will develop software that will take us a step forward from our competitors and we will get faster and more accurate results in the design phase.
Revit enables many people to work on one model at the same time. This gives us great advantages in the design stage