BIM (Building Information Modelling)
Building Information Modeling is an application that can be used in all processes; from the signing of the contract to the delivery of the work. It is one of the most important reflections of digital transformation in construction and engineering, strengthens the way we do our business and creates a difference.
We started our BIM journey in 2015
We started our Building Information Modeling process in 2015. After completing extensive preparations for adaptation to Building Information Modeling, we became one of the few MEP contracting companies in Turkey that implements Building Information Modeling. For us, Building Information Modeling is an approach to ensure that the right people get the right information about the project at the right time.
During the tender process, receiving design models for some projects and calculating fast and accurate quantity take-off through these models takes us a step further. We can provide our clients with accurate outcomes.
We make the modeling of the works in our projects through Building Information Modeling tools. Even if we receive 2D drawings during the design process, we convert them into the models that are compliant with Building Information Modeling standards. Thus, we minimize the risk of mistakes occurring at construction sites and we generate feasible and easy-to-assemble models. Additionally, for the models that we generate and deliver, we also share some non-graphical data that can be used in operations and maintenance by our clients.
3D: Design
- Design Documentation & Collaboration
- Family Generation
- Laser Scanning
- Coordinated 3D Modelling (LOD 400)
- As-Builts (LOD 500)
- Modular Solutions (Ceilings, walls)
- Pre-fabricated systems (Shafts, Corridors, Equipment Skids, Penthouse Units)
- Dynamo BIM Programming
- MEP Engineering Calculations
- Energy Analysis
4D: Scheduling
- Construction Sequencing & Scheduling
- Project Phasing Simulations
- Time & Progress Simulation
- Just in Time Equipment & Material Delivery
- Logistics Modelling
- Virtual Construction
5D: Estimating
- Quantity Survey for Cost Estimation
- Cash Flow Analysis
- Value Engineering Simulation
- Project Change Cost Impact Simulation
- ERP (SAP) Integration
6D: Facility Management (COBie)

- Life Cycle BIM Strategies
- BIM Maintenance Plans & Tech Support
- BIM embedded O&M Manuals
- COBie Data Populations & Extraction
Our BIM Committee
We have established a BIM Committee for the continuous development of our BIM works.
The priority is to further strengthen the cooperation and communication of the site with design and to take it to the best possible level. Another focused main heading was training.  In 2018, we established 1713 hours of training about BIM.
1713
hours of training
55
training topics
BIM 360 Pilot Project
Our BIM Committee planned the BIM 360 pilot project to actualize the planned applications and to use BIM beneficially in our company in the future. Project has started as of March 2018 and so far, 65% of the pilot project targets have been achieved. We used BIM Field within BIM Docs in our pilot Project in Qatar.
The main aim of our BIM 360 pilot project was to see how much we can improve ourselves technologically. As the company, we have everything in terms of technical competency and resources. We have good engineers, good technical draftsmen and good managers. Besides, we are in an era of serious change; works began to change rapidly with technology and digitalization
The design & site coordination, the follow-up of equipment, issue and QA/QC task became more efficient via BIM 360 Field. With the Cloud based BIM 360 Docs software, we were able to see and follow the problems about design and site on the map section. Thus, design – site coordination became more efficient.
We carried the BIM models that we worked in the UK and the Netherlands to the Cloud via "BIM 360 Design". Thus, the teams were able to work on the same model in sync.  We made pre-fabrication designs for pumps and some other equipments in our project in the UK.
The Achievements of our BIM 360 Pilot Project
Increasement of the cooperation between the departments and the speed of the works
The completion of sitework productions at one time
Zero overlooked productions
Preventing loss of time due to audit
Instant monitoring of progress payments
Effective subcontractor control
High level superior – subordinate control mechanism
Effective material tracking
Simultaneously delivering of the reportings timely and correctly
Less man-hours
Less paper usage
Eco friendly practices and supporting environment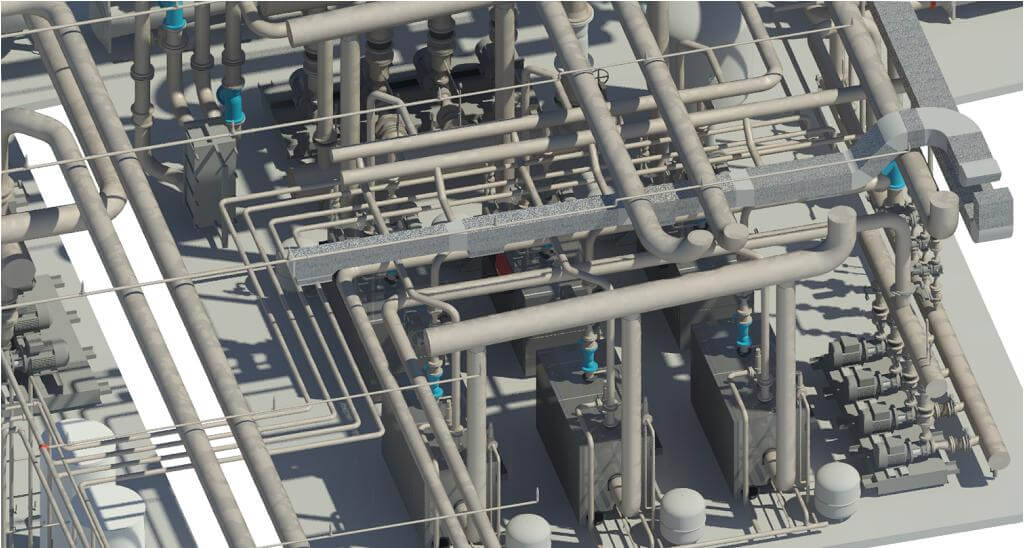 Advantages of BIM in construction process
Before we get to the implementation phase in our projects, informing the design and site teams on the processes and ensuring uninterrupted communication are the most critical issues. BIM software offers serious advantages by allowing these teams to see the models made before the application and to predict how the site will progress.